Collecting Mexican Currency
By Cory Frampton
Over the past several years we have seen an increasing number of collectors of US currency crossing over to Mexican currency which they find more interesting and more challenging. In addition, with Mexican coin prices on the rise a number of Mexican coin collectors are starting currency collections as well. These new collectors tend to be knowledgeable about collecting coins and currency, making it easier for them to start collecting a new area. If the trend continues, these new collectors could have a significant impact on pricing in a relatively thin market.


Mexican currency is generally divided into six different areas including Imperial and Early Republic, Bank Notes, Pre Revolutionary, Revolutionary, Post Revolutionary and Banco de Mexico modern issues. The two most commonly used references are Mexican Paper Money, published by our firm, and Paper Money of the Bank of Mexico by Duane Douglas. Both of these are available on our website. Mexican Bank Notes are the most widely collected of the issues followed by Banco De Mexico 20th Century issues and Revolutionary. The other three categories contain numerous items that are rare and therefore difficult to obtain.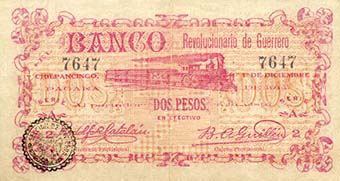 Mexican Bank Notes are especially popular due to their interesting and beautiful designs. Most of these notes are large sized with bright colors and very high quality engraving. They are commonly known as Bancos due to the fact that most contain the words El Banco de (The Bank of) in their title. Most collectors focus on assembling a type set of Bancos as either issued notes, specimens or both.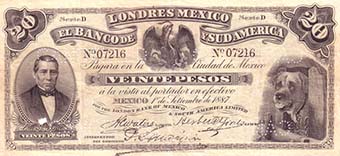 If you start collecting issued Bancos by type, there are around four hundred different notes. The first thirty or forty percent are fairly readily obtainable and given a couple of years can be purchased in nice condition. From there it gets a little tougher. While there is a significant percentage of Bancos that can be obtained in XF to Unc, keep in mind that "nice condition" in Mexican Bancos generally means fine or better. There are around fifty of the Bancos that do not exist in issued form. If you are trying to collect the entire series, I suggest you purchase a specimen if the issued note does not exist or is so rare that you are unlikely to obtain it. There are a significant number of notes that are priced from twenty to a couple of hundred dollars, making it fairly easy to get started. The highest sale price I know of for a Banco is around $20,000 for a Banco Aguascalientes 500 peso graded Good.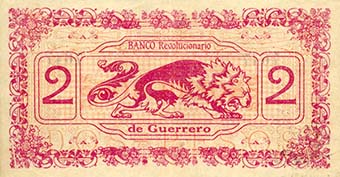 The specimen market has become very active lately, especially on items valued at under $500 and prices in this segment have been rising. The quantity of known specimen notes tends to decline rapidly as the denomination increases. For instance, it is not unusual for there to be more than fifty examples of a 5 peso specimen for a given bank while less than five examples of a 500 peso specimen at the same bank. As these new collectors finish acquiring the lower priced specimens, I expect to see price increases in the much scarcer high denomination issues. A good example of the rarer specimen notes is the same Banco Aguascalientes 500 peso that is currently priced at
$3,500 in specimen versus the issued note at $20,000.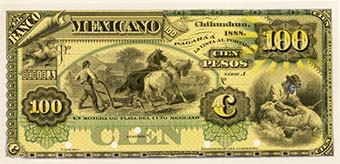 The Mexican Revolution is an extremely interesting area that is also attracting a lot of new collectors. Revolutionary currency was issued by nearly every government and municipal entity as well as an incredible number of private entities. Think about the times and conditions. A war was going on with control of any given area shifting rapidly between several factions. Very little coinage was being issued by the federal government. Most of the existing silver and gold coins were being hoarded. While some of the currency issues were meant to circulate across the country, many were issued by local stores, mines and other entities and served as local currency. Elmer Powell, one of my co-editors for the Mexican Paper Money book, has put together the largest collection of Mexican Revolutionary currency ever assembled. His collection consists of over 2,000 different notes and he is only around 65% complete. Interestingly, he has acquired 72% of the state and military issues and only 51% of the private issues, which gives you an idea of their relative scarcity. Since the revolutionary field is so large, many collectors focus on military issues, state issues or simply high grade type notes.
If you have questions about collecting Mexican Currency, feel free to give me a call.
Cory Frampton