Collecting Mexican 20th Century Coins
By Cory Frampton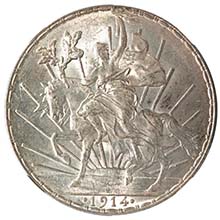 This series, which has gone from the most collected during the late 1960's to the most stagnant today, has a lot of promising segments. There were probably ten times as many collectors in the 1960's and 1970's as there are today, mostly due to the demise of the Whitman and Dansco coin albums. During that period of time it was very popular to collect Mexican coins by type or date, in an effort to fill up the albums. At that time not many people were grade conscious and simply attempted to fill the albums with decent looking coins.
Unfortunately, those vf to au coins are worth about the same today as they were all those years ago. However, the few collectors who were grade conscious were richly rewarded. Coins that grade MS65 today sold for slight premiums over their average uncirculated counterparts at that time. It was not until the late 90's that high grade, relatively common coins started to bring big premiums.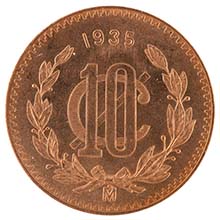 Today, grading is everything. Slabbing coins became more common in the late 90's and is now standard practice. The phenomenon of registry sets furthered a market condition whereby a lot of 20th century coins that grade below MS63 are deeply discounted and difficult to sell today.
All of these events contributed to changing the 20th century coinage from the most collected to the weakest market segment. There are definitely exceptions and with the bad news comes a great deal of potential. Approached with some thought, we believe this segment of the Mexican market holds great potential for individuals who are patient and collect with a long term view.
Following are our thoughts on several individual areas of 20th century coinage.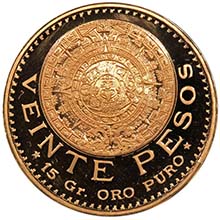 Bronze Issues of 1, 2, 5, 10 and 20 Centavos from 1905 to around 1935.
Aside from the rarities such as the 1922 2 centavo and the 1931 5 centavo, this market is pretty much dead below MS63. Coins in MS63 are selling for around two thirds of catalog uncirculated prices and sell slowly. Coins in MS65 with good eye appeal are saleable at catalog values or higher. We think high grade, nicely toned coins with good eye appeal are scarcer than people believe and are good value long term. We especially like the coins that are a really pretty gunmetal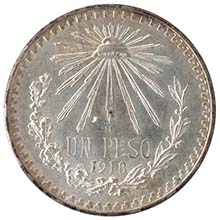 Silver Cap and Ray Issues in 10, 20, 50 centavos and 1 peso starting in
1905. This segment is much more active and we think it should be. With the exception of the rare dates, you can put together a set of these graded MS64 or better at pretty reasonable prices and they are very attractive coins. Catalog prices are both too high and too low. For instance, the 1919 peso catalogs at $950 in uncirculated. We have sold a couple of MS62 coins lately in the $350 range. On the other hand, the 1918 priced in the catalog at $2500 bu is about right with gems bringing more. The 1908 50 centavo catalogs at $650 in bu but is bringing closer to $2,000 in gem.
Caballito Pesos. This segment of the market is very strong in high grade.
There are a number of collectors looking for all dates in gem and prices are rising. Coins in MS65 are bringing well above catalog bu.
Gold Coins – 2, 2.5, 5, 10, 20 and 50 pesos 1905-1959. The market for
the lower end of this series (2-10 pesos) is active but not nearly as strong as the 20 and 50 peso segments. The 20 peso series is a lot harder to put together in MS65 than most people think. I know of a number of sets of 50 pesos in MS65 or better. I do not know of a complete set of 20 pesos in MS65. The 50 peso market is fixated on grades from MS65 and up. These coins sell quickly in the early dates. Coins dated from 1943 to 1947 in MS65 are common. You can put together a set of MS64 coins pretty reasonably.
We have a wide selection of high grade coins from the 20th century on our website. If you are looking for something in particular that you don't see on the website be sure to let us know. We fill want lists before we put coins on the website.
Cory Frampton