VIDEOS
These short videos are companion pieces to articles published in our newsletter. New videos on a variety of different topics will be added periodically.
US MEXICAN NUMISMATIC ASSOCIATION
The Association has over 300 members who collect Mexican coins, paper money and other items.
A quarterly journal is published in color containing a variety of interesting articles and the Association puts on a convention and educational forum annually in October.
Dues start at $20 per year.
Go to USMEX.ORG for more information and to view sample journals.
READ OUR NEWSLETTER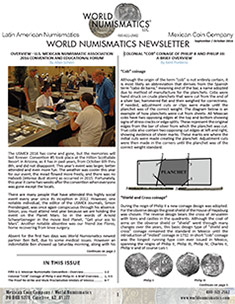 We publish a bimonthly Newsletter about the Ancient, World, Mexican, and Latin markets. Click the image above to view the previous Newsletters.
If you would like us to send you the Newsletter CLICK HERE
MEXICAN PAPER MONEY
We are proud to have published the most complete guide to Mexican Paper Money ever printed.
This hard cover 400 page book is printed on oversize pages in full color.
Mexican Paper Money has become the industry standard and contains listings on more than 7,000 items of which more than 1,000 are not listed in the Krause Catalogs.