Newsletter
We publish a bimonthly Newsletter about the Ancient, World, Mexican, and Latin markets. Click the image above to view the previous Newsletters.
US MEXICAN NUMISMATIC ASSOCIATION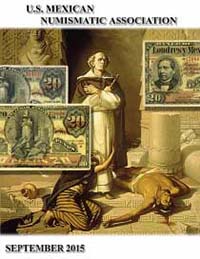 The Association has over 300 members who collect Mexican coins, paper money and other items.
A quarterly journal is published in color containing a variety of interesting articles.
The Association puts on a convention and educational forum annually in October.
Dues start at $20 per year.
Go to usmex.org for more information and to view sample journals.
What's New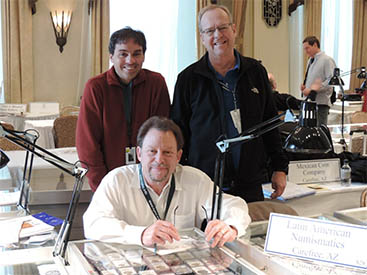 Carlos Jara, Cory Frampton and Max Keech at the New York International Coin Show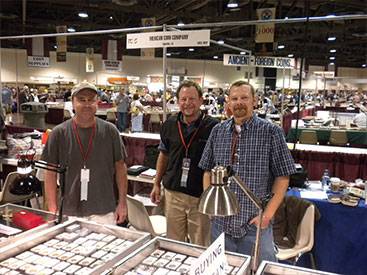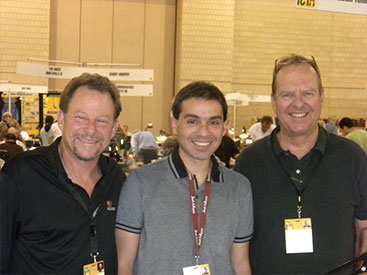 Welcome to our updated website!
There are a lot of changes taking place here. Kent Ponterio just came on board as a full partner and is in the process of expanding our inventory into world and ancient coins. In addition, our recent growth has caused us to move our office, double our space and increase our office staff.
Our website has been updated with over five hundred new items in just world and ancient coins alone. Stop by and take a look at our expanded offerings.
Over the course of the next year we will be changing our name to World Numismatics, which is more befitting a broad focus numismatic firm.
I want to assure all of our existing customers that there is no reason to be concerned about our expansion into new areas. We will continue to buy and stock the same level of Mexican and Latin coins and currency. While we will be expanding the newsletter to include additional articles about world and ancient coins, we will not neglect our roots and will continue to publish plenty of articles on Mexican and Latin topics. We also try to publish guest columns on interesting topics and if you have an article you would like to see printed in the newsletter, give us a call.
We hope you are as enthusiastic about our new direction as we are. In the future, we will be updating our website on a regular basis expanding the range of quality coins and currency on a regular basis.
Contact us at info@worldnumismatics.com
MEXICAN PAPER MONEY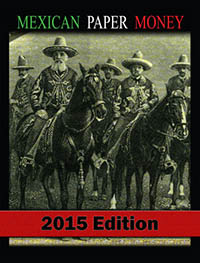 We are proud to have published the most complete guide to Mexican Paper Money ever printed.
This hard cover 400 page book is printed on oversize pages in full color.
Mexican Paper Money has become the industry standard and contains listings on more than 7,000 items of which more than 1,000 are not listed in the Krause Catalogs.
For More Details Click Here