VIDEOS
These short videos are companion pieces to articles published in our newsletter. New videos on a variety of different topics will be added periodically.
WHAT'S NEW
Carlos Jara
March 8, 1976 - April 10, 2017 Memories of a good friend ... I recently moved to Arizona to work full time at World Numismatics' headquarters. These past few weeks have been very exciting for us yet that joy has been clouded by the recent passing of our colleague Benjamin Bell. Ben passed away on Monday, April 10, after a long, hard fought battle with cancer, his loving family at his side. Well educated in traditional historic studies, Ben worked as a numismatist at Classical Numismatic Group and was the co-founder, co-owner and President of Civitas Galleries, Ltd. In a world where many numismatists have grudges against one or more of their colleagues, Ben was one of only a very few loved and respected by everyone, and was duly considered one of the rising stars in professional numismatics. By our great many conversations, I can attest to his deep love of coins, extensive knowledge and impeccable work ethics. He was snatched far too soon from the coin world, and will be dearly missed. Our thoughts and prayers are with his parents, Rob and Rebecca and his sister Rachel. ~ Carlos Jara
US MEXICAN NUMISMATIC ASSOCIATION
The Association has over 300 members who collect Mexican coins, paper money and other items.
A quarterly journal is published in color containing a variety of interesting articles and the Association puts on a convention and educational forum annually in October.
Dues start at $20 per year.
Go to USMEX.ORG for more information and to view sample journals.
READ OUR NEWSLETTER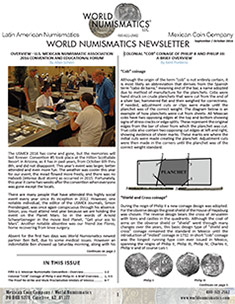 We publish a bimonthly Newsletter about the Ancient, World, Mexican, and Latin markets. Click the image above to view the previous Newsletters.
If you would like us to send you the Newsletter CLICK HERE
MEXICAN PAPER MONEY
We are proud to have published the most complete guide to Mexican Paper Money ever printed.
This hard cover 400 page book is printed on oversize pages in full color.
Mexican Paper Money has become the industry standard and contains listings on more than 7,000 items of which more than 1,000 are not listed in the Krause Catalogs.