Newsletter
We publish a bimonthly Newsletter about the Ancient, World, Mexican, and Latin markets. Click the image above to view the previous Newsletters.
US MEXICAN NUMISMATIC ASSOCIATION
The Association has over 300 members who collect Mexican coins, paper money and other items.
A quarterly journal is published in color containing a variety of interesting articles.
The Association puts on a convention and educational forum annually in October.
Dues start at $20 per year.
Go to usmex.org for more information and to view sample journals.
What's New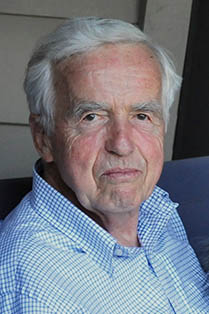 Richard Stuart
April 23, 1926 – June 20, 2016
Well known Central American specialist and collector Richard Stuart passed away on June 20, 2016 in California at age 90. Mr. Stuart began collecting in the late 1940's with a broad interest in Latin America. From the early 1980's onwards, Richard's sole focus was Central America as he sold his South American holdings. Most of the latter series (although not identified as such and now widely known as the "Americas" collection) were auctioned by Kagin's at the 1983 ANA convention and that sale catalog remains a reference in its own right. Over the years, Richard was able to gather what will in all probability remain the greatest collection of Central American coinage ever assembled. Richard was active at coin shows and directly participated in many notable sales including H. Gibbs (H. Schulman 1966), F. C. C. Boyd (Superior 1975 ANA sale), Norweb (Christie's Dallas 1985), Eliasberg (ANR 2005) and Caballero de las Yndias (Aureo 2009). Exceptional in both quality and comprehensiveness, Richard's collection has anchored many books and articles including Carlos Jara's recent works "Historia de la Casa de Moneda de Guatemala" (2010) and "Central American Provisional and Provincial Mints" (2007). For any Central American coin, the Stuart provenance now represents a more desirable pedigree than any of the aforementioned famous names.
Mr. Stuart was known for his extreme generosity in sharing his collection with fellow scholars and collectors. Dozens of us have made the pilgrimage to Northern California and spent many enjoyable hours with Richard, reviewing and discussing the coinage of Guatemala, Costa Rica, Honduras, El Salvador, Nicaragua, Panama and British Honduras.
Richard was born on April 23, 1926 to Gilbert Stuart and Sara Norwood in Medford, Oregon. Richard obtained a B.A. and Ph.D. in Physics at UC Berkeley and served as staff physicist for Lawrence Livermore Labs from 1952-77, and as a lecturer at UC Berkeley. From 1978 on, Richard was a Consulting Physicist in accident reconstruction. Richard is survived by his wife Elizabeth, sons Paul and John, daughter Amelia Schaller and 6 grandchildren. Richard is preceded in death by his son Eric and sister Graecha. Richard will be fondly remembered by the numismatic community.
MEXICAN PAPER MONEY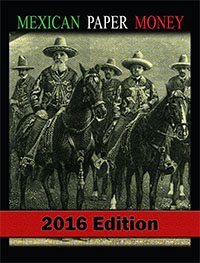 We are proud to have published the most complete guide to Mexican Paper Money ever printed.
This hard cover 400 page book is printed on oversize pages in full color.
Mexican Paper Money has become the industry standard and contains listings on more than 7,000 items of which more than 1,000 are not listed in the Krause Catalogs.
For More Details Click Here